About Us
In the struggle to develop, bare hands are not enough. Tools For Solidarity gives old tools a new lease of life giving skilled tradespeople in Africa the chance of a livelihood.
Why is it that we, in the so-called "western" or "minority" world with less than 20% of the world's population consume over 80% of the world's natural resources and produce a disproportionate share of the world's waste and pollution?
Is poverty in the so-called "third" or "majority" world due to natural disasters or bad luck or is it the result of an economic system which exploits one part of the world for the benefit of another?
And why even in the richest parts of the "west" are there pockets of poverty?
Solidarity is not a one way process. It is sharing the problems which face us all and realizing that we all must be part of the solution. There is enough for everyone's needs but not everyone's greed. We believe that we should all live simply so that others can simply live!
Tools For Solidarity is a non profit making development organization from Northern Ireland run entirely by volunteers. We are actively working for a more equitable distribution of power and resources in the world.
Our Organisation
Tools for Solidarity is a voluntary charitable organisation based in Belfast and Downpatrick which supports artisans and communities in some of the poorest countries in the world by providing high quality refurbished hand tools and machines.
Tools For Solidarity collects, refurbishes and ships out old and unwanted hand tools and sewing machines to skilled tradespeople in Africa. This act of solidarity enables them to become more self reliant and have some hope for the future.
A Peace of History…
It all began, back in the mist of time, in 1984. Stephen Wood reports to his brother John Wood about TFSR's activities (Tools For Self Reliance) in Cardiff, Wales and they were inspired by this idea. So John and Thomas decided to start collecting tools door to door and building up a stock of tools in Belfast. "Any old iron", "Bring out your dead". Thus they had successful results. These tools were then shipped out to Ulster Cares projects in Somalia, Sudan and Ethiopia. Initially these tools were repaired in Newington St backyard.
TFS organized over 30 work camps and the first one was in 1985 and took place Newington St (Belfast) through International Voluntary Service (IVS), Service Civil International (SCI), Quaker International Social Projects (QISP). Most of these work camps took place in Belfast although some of them have taken place in Dublin, Roscommon, Port Laoise, Derry and Berlin. People who participated in work camps helped to repair tools and make collections.
In 1986 the Belfast group joined TFSR and started to refurbish tools in a semi derelict building opposite Manny's chip shop on the Antrim Road. The room was like a fortress with a steel door and steel shutters bolted to the window. The floor was not safe in the middle so the tools were stored around the walls. It was in this workshop that we prepared the first shipment in which we shipped tool-kits to Nicaragua. Occasionally were also organized collecting weekends in Bangor, Holywood and Derry with the help of IVS local group.
Over the years we moved about five times, always to places where we didn't have to pay rent but on the other hand the conditions of the workshop were very basic and working there were quite risky. The group used to meet on a par-time basis but we were continually searching for permanent premises. In 1989, we use to meet every Monday evening in a derelict building owned by the Belfast Centre for Unemployed. In 1990, we where based on the top floor (attic) of IVS. After that we moved to Diarmuid's family's garden shed (no insulation, heating oil or water) and then to a lager home, a large garage in Salisbury Ave where we spent every Sunday afternoons fixing the leaky roof as well as tolls. At that time we also collected wood to build boxes for the shipments. Despite these difficulties and still adding the little experience that we had at repairing tools, with the dedication, persistence and help from other organizations we have started to get skilled and 'tooled up'. We have also increased the number of tools sent and we have started to organize events around Ireland.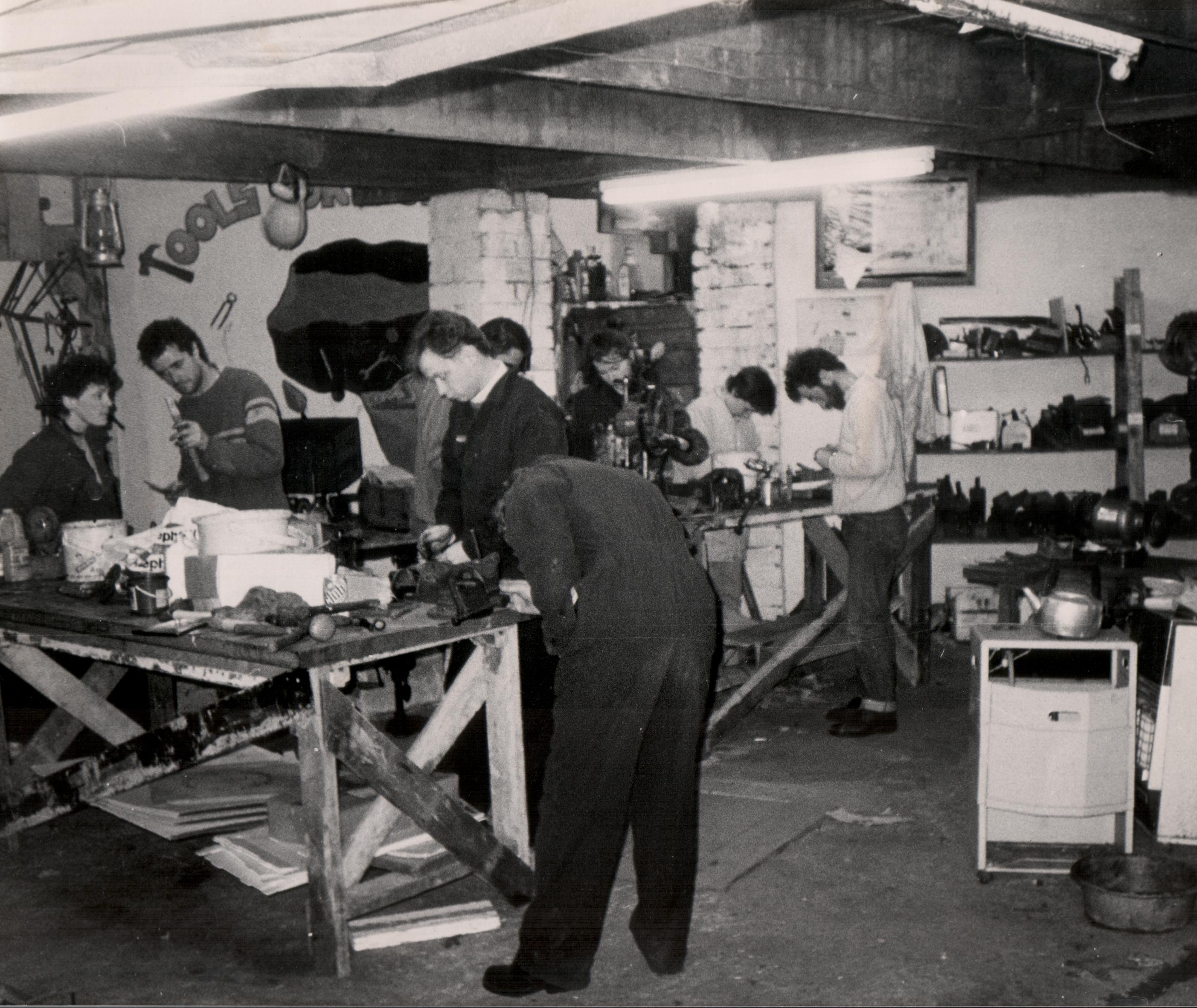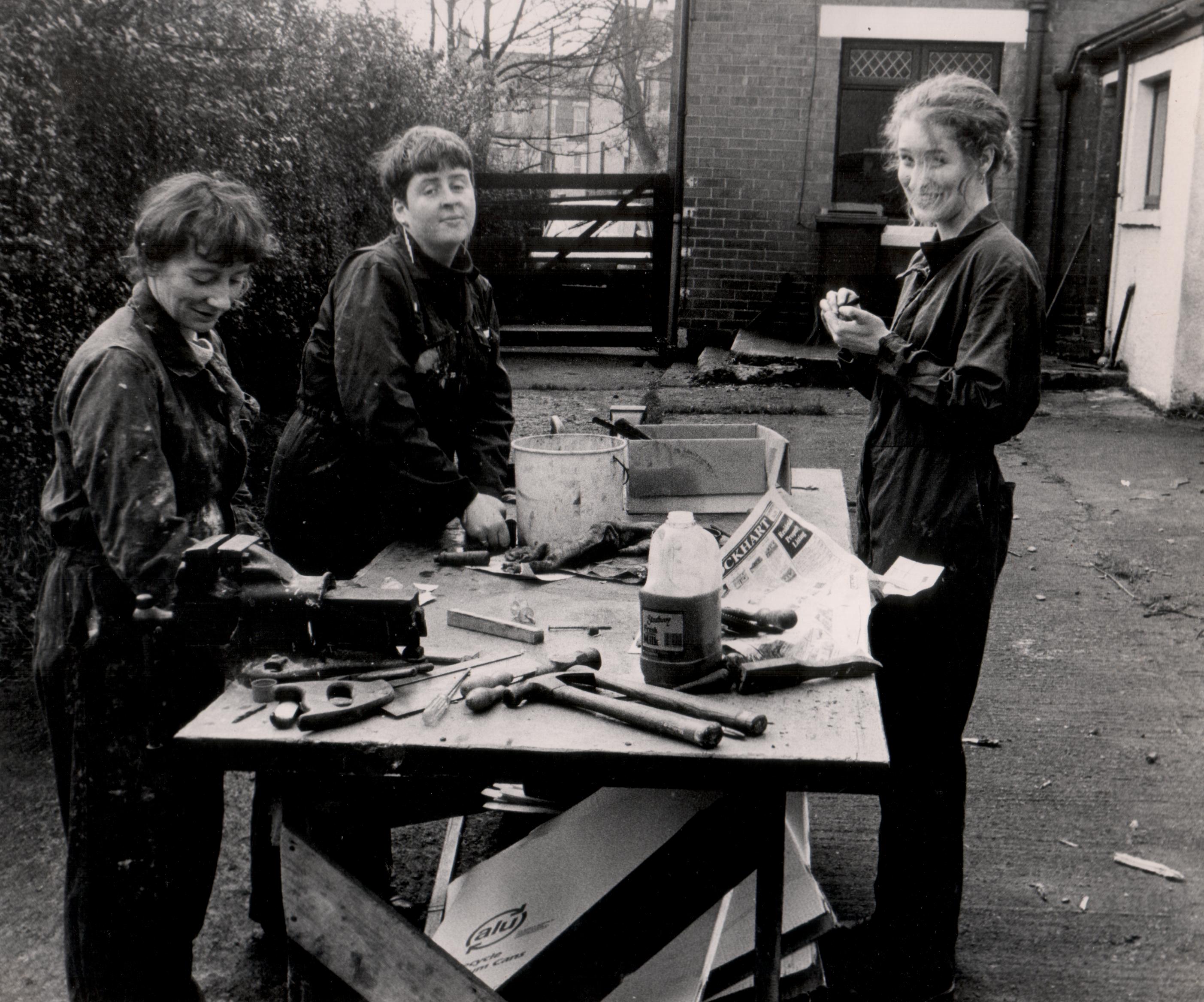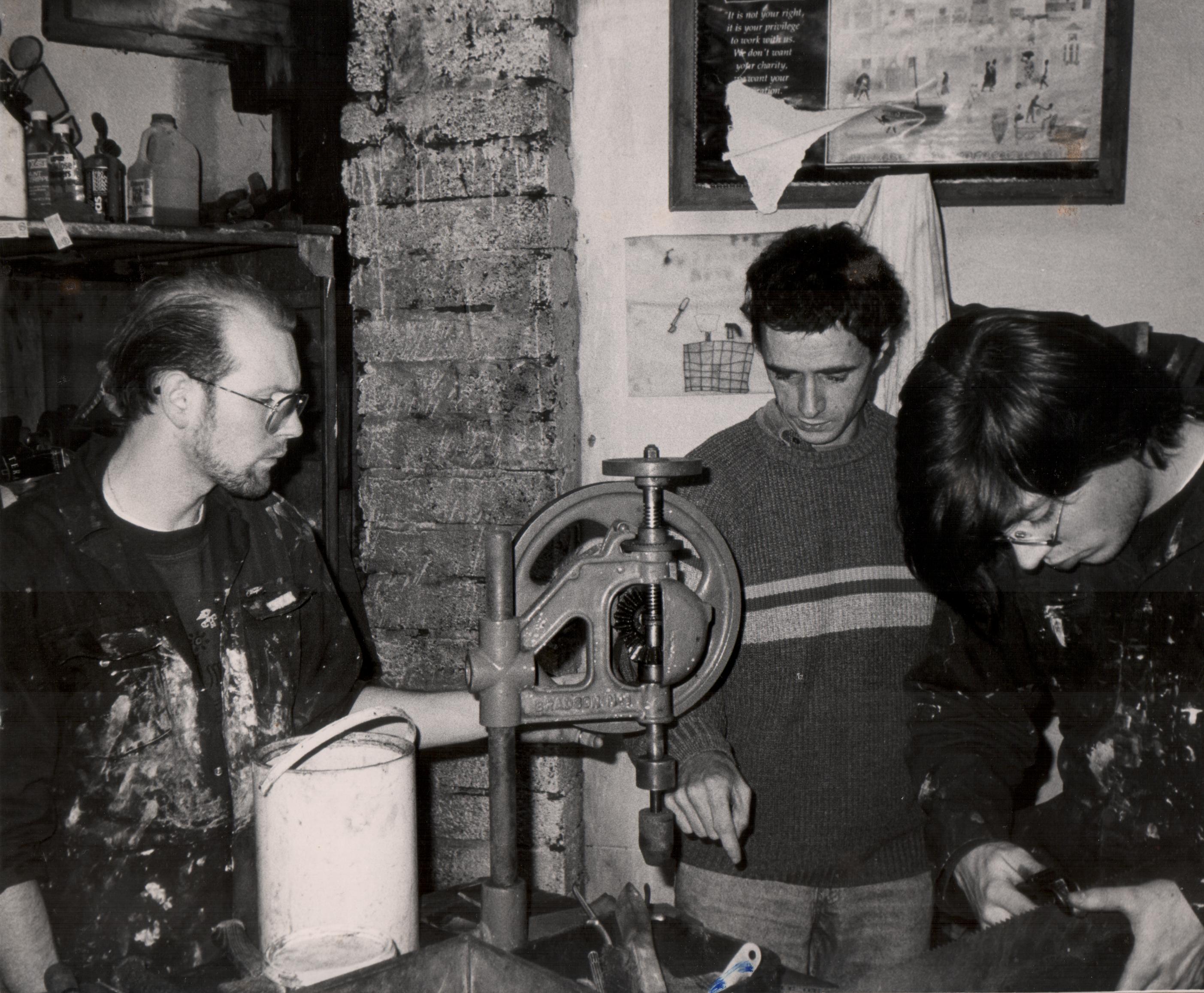 In 1991, a steering committee was set up to seek permanent premises and to get funds for it. We had discussions with TFSR who advise us to set up an independent organization so that we could develop Tools For Solidarity throughout Northern Ireland. Is was in this context that in June of 1992 the idea of creating Tools For Solidarity was born. We drew up a business plan, a development plan and after many discussions we choose our logo (thanks Tara!). The first idea was to open a full time project and raise funds to pay for the building and to employ 3 persons. So we started to raise funds with benefit gigs, pub quiz, jumble sales, raffles and sponsored bike rides to Stangford and back.
In the middle 1993, we had raised a quarter of the budget and we made the decision to open the project without any employed staff and to rent a building. In the same year Stephen visited the Iringa region of Tanzania and made contact with local Small Industries Development Organization(SIDO) office in order to create a partnership with this organization.
On the 27th of May 1994, the TFS workshop was officially open on the Crumlin Road as a full time project. It was also in this period that our first international long term volunteer arrived, Dunla, from Finland. Tara, Sile, Rita and Annie were also volunteers who came up from Dublin to help to prepare the workshop.Our first EIRENE volunteer, Martin, arrived in 1995 to do peace (civil) service here instead of military service in Germany. They where followed by generations bright-eyed and bushy-tailed EVS (European Voluntary Service), EIRINE and later step x step volunteers. We also started a Supported Volunteer Programme for people with special needs. At that time we have formalized our partnership with SIDO Iringa and we have started to send out tools to training centres, blacksmiths and youth and women's groups.
In 1995 we sent 367 tools to a project in Uganda, SASO (Sustainable Agricultural Support for Orphans). In the next year the first sewing machine was refurbished and in 1997 we started a campaign to collect sewing machines firstly with an Ulster TV advert and then a joint campaign with War on Want's network of shops. In the same year we sent sewing machines to support youth economic groups in Singida, Tanzania.
As the years passed we have been perfecting our techniques and sending sewing machines and tools for various projects in Tanzania and Uganda. In 2004 we had a big celebration of 20 years of Tools for Solidarity. Later in 2006 John went to Uganda and Mwanza to visited the projects that we had sent tools and sewing machines, most of them were directed to women and people with disabilities. Following this in 2007, the Mwanza Sewing and Training Centre (MSTC) opened and in 2012 we have started a pilot project in Uganda called the Women Rights Initiative (WORI). Since then we have worked in TFS Belfast in partnership with those two organizations in order to prepare the shipments that occur almost every year.
Tools for Solidarity always wanted to have their own premises instead of renting a building. In the previous few years potential locations have been investigated until finally in November 2013 a perfect premises was settled upon. March 19th 2014 became an important date in the organization's history as we were handed the keys to our new home. The new workshop is an old red clay brick warehouse that has served many purposes over its lifetime. Nestled snugly behind houses on all sides in its South Belfast neighbourhood on the cheerfully named Sunnyside Street. A lot of of work has gone into renewal and transformation as volunteers have gone from refurbishing tools to refurbishing buildings! The first issue was how the space was to be used- there was a lot to consider with hundreds of knitting and sewing machines and countless hand tools as well as shipment storage, workspace, office, grinder room and kitchen at the very least. Old dusty walls of been made like new with some paint, new electrics are being put in place and the building is slowly starting to resemble a tools workshop as shutters come off the windows lighting the busy activity taking place within.

more pictures of the new workshop…
We have come along from the small group of volunteers who used to meet in garages and attics back in the 80's. While our experience and confidence has increased we have not lost the ideals which attracted us to this practical solidarity work.
What Do We Do
In TFS Belfast, EVS, EIRENE and local volunteers work together to prepare the shipments which includes:
Refurbishing and fixing sewing machines
Refurbishing and fixing tools
Fixing knitting machines, leather working machines, industrial machines and over-lockers
Building wooden boxes to store the sewing machines and tools
Sort out materials, wool and sewing machines attachments
Refurbishing and fixing treadles
________________________________________________________________________
We also work in different subgroups such us:
Publicity. We publish a quarterly newsletter to promote the organization's work, publicize widely around the Belfast area that we make collections of donated tools and sewing machines and produce leaflets to explain succinctness the work of TFS. We also update the social media networks such as Facebook, twitter and website with articles and short news stories.

Education for Sustainable Development. We work with students from primary and secondary schools and youth clubs with the main aim to raise awareness in topics such us poverty, inequality, exploitation of natural resources and fair trade. More info

Fund-raising. We develop collection campaigns and write funding applications to be able to continue running our projects.

Supported volunteers group. We prepare weekly the work for the supported volunteers and work in partnership with organizations for people with special needs. More info

Partnerships. We have regular meetings to review the work that needs to be done, co-ordinate and plan with the overseas groups about the works taking place throughout the partnerships. More info about MTSC. We also work towards forming new partnerships.
Tools For Solidarity has three basic aims:
To provide people, communities and projects in sub Sahara Africa with basic hand tools and machines so that they may practice their skills and improve the quality of their own and their community's life. The tools enable the people who receive them to establish small co-operative and community businesses as well as provide training in vocational schools and opportunities for employment for disabled and women's groups.

To raise awareness throughout Northern Ireland (NI) about the issues of sustainable development within our own society as well as in the so called Third World or Majority world. These issues include the environment, waste and recycling, appropriate technology, self-reliance, sustainability and community development. We seek to improve and question what we do and work with others to challenge the wasteful, destructive and unequal growth pattern of our society and globe.

To provide opportunities for people in NI to participate in worthwhile and valuable work. TFS is particularly committed to working with all sections of the community in NI and to focus on providing sheltered placements for people with special needs and those normally excluded from being able to contribute to society in a positive way.
Chairperson's Address
2016
The organisation continued to ratify its base within its new premises. We spent a year sorting out all the tools that had come over. It has been an ongoing work that we will carry on for at least another year to sort out the backlog tools that we brought over from the other workshop.
The workshop looks amazing. All the work has been done. For instance, we set up our Supported Volunteer Programme. So in many ways, it is great to be in our new workshop.
Unfortunately, there has been a real setback with our partner in Uganda. We left it in April when we went over for a visit. It began to work very well. When we went back in September it seemed to be achieving the results. But the partner had not adhered to the Partnership Agreement and after some accounting were found. On the top of that, we had very little communication with our partner who had been creating real problems. Although members of the committee in Uganda tried to help to solve these issues with the partner, finally we needed to take serious action against our partner.
On the plus side, we developed a partnership with BWW, a Dutch organisation in order to work together on projects overseas. This year they sent 360 sewing machines to the Mwanza Sewing and Training Centre in Tanzania. It meant a genuine help for us because we could concentrate on trying to get the Ugandan Project working as well as going through our stock of tools and sewing machine in the workshop.
The success of our ESD Programme has been continued this year with a further funding from an individual. This significant fund enabled us to secure the programme for the following year.
The number of volunteers is still at a very high level. During the year we had a Strategic Development Plan in order to help the Organisation Plan for the next years. This is required because of the high reliance on international volunteers which needs to become more structured in terms of dealing with the problems that may come in the future.
All in all it has been a very successful year. The organisations finances have remained strong even though we have a mortgage for the new building. Hopefully by the end of the next year we should have been able to pay off our loan.
Boglarka Benke
2015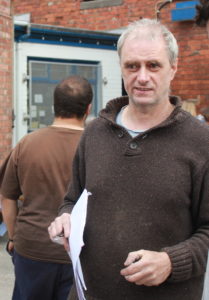 The organization achieved a milestione this year, it is now 30 years since we set foot on the streets of Belfast knocked on the first door and started collecting tools. From such a small beginning and with no thought of where this might lead the organization has developed into one that has many volunteers and supports centres in East Africa.
The year itself was the busiest in the histrory of TFS. We sent 2 containers in one year, a first for the organisation, held a celebration of the organisations 30th birthday and moved into a new and TFS's own workshop.
Over the last 15 years TFS has had the dream/plan to try and secure it's own building. For many years we have built up a financial reserve for this but prices were unaffordable for most of this period. In recent times this changed and TFS was able to buy a building that would become it's new home. Based on the other side of town and with literally tons of tools and thousands of sewing machines to move TFS had an enormous job in boxing and moving everything it has. The work did not stop there with alterations and work to the building itself. It was a manmoth task and one that has given the orgnaisation, in the long term, more security and a more accessible workshop.
We continued with our partnership with MSTC (Mwannza Sewing and Training Centre) which is working very well. At the same time we developed a new project in Uganda with WORI (Women's Rights Iniative) and sent a container in October 2014. To run the project Simon from Uganda came to get training in Belfast and he had a 3 month intensive training programme. TFS personeel then wnet out to undertake additional training in-country from Feraury to end of April.
As mentioned above it was 30 years since tools began and we could not let this go by without a big celebration. It was the firsst in our new workshop and we had many volunteers from previous years who came to visit as well as many letters of congratualtions from those who could not make it.
The orgnaisation as usual had a new influx of volunteers and this year and we were very fortunate able to hold onto 2 volunteers both of whom took up critial roles within the organisation. Our educational programme has been re-invigourated by Laura, from Galithia, who has organised visits to schools providing a programme around 'Education For Sustainable Development' (ESD). Francesca has stayed to help TFS on the new project in Ugnada and has been out for 3 months helping to establish the project.
The organisation has also been strenghtened by the arrival of Conor who has taken on the job of 'Wates Management', a project to reduce waaste from tools/sewing machines within the Belfast area and supported by Belfast City Council. He has also been instrumental in getting funding to fix up the new building and get facilities, a lift and toilet, so that the new workshop can be accessible by people with disabilities.
The organisations finances have remained stable even though we have a mortgage for the new building we have saved money from not having to pay an even higher rent for the old workshop.
The organisation has achieved many of it's aims that were set out from previous strategic meetings: development of centres in partner countries; the purcahse of a workshop/centre for the TFS; the operating of an ESD programme. More work needs to be done on building and strenghtening the capacity of TFS and this is needed for the future.
It is important to finish on a point of celebration and congratulations to all involved in TFS in achieving a proud and influential 30 years of work.
John Wood
2014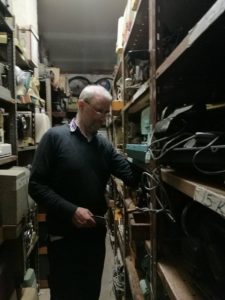 In the previous year the organisation has made 2 important decisions. Firstly we agreed to develop a project in Uganda with an organisation called WORI (Women's Rights Initiative). This new project is a major undertaking and has only been possible due to the great support from people from within N. Ireland, all over Europe and beyond. The second major event to occur over the year was the decision to purchase a building that would be owned by TFS. This has long been an ambition of the members of TFS to have a building with ground floor access and one in which we could develop to better suit work for supported volunteers and ultimately reduce our costs.
The task to move TFS from its present location to one on the other side of the city will require a big effort from everyone within TFS. The process to box and pack all our materials has taken several months. This coupled with the work needed to re-shelve and organise the new workshop means that the organisation will be stretched for at least 2 years.
Support for the tailoring project in Tanzania goes on, which is now in its 7 year of operation. The project has recovered well after the disastrous fire, from 2 years ago, which destroyed the building and stock of machines. Training levels are up and the projects finances are positive.
The old and new volunteers who have come through EVS, Eirenne and other avenues have come in at a time of big change within TFS and they have rallied round to help the organisation with this transition.
Another big and positive move has been the re-establishment of TFS Development Education Programme. Renamed ESD (Education for Sustainable Development) a former EVS volunteer, Laura, has been instrumental in developing a programme which is working in several primary schools. The feedback from teachers and pupils has been extremely positive.
Another former volunteer, Francesca, has agreed to help TFS develop the new project with WORI in Uganda. This is a big commitment which means that Francesca will be with TFS for the next 3 years and will be project co-ordinator for the project.
Other significant changes over the year were the addition of a volunteer from Belfast, Conor, who joined the core volunteers within the organisation and has contributed to the fund raising of the organisation. This has enabled the organisation to receive funding from Belfast city Council for a waste management programme aimed at reducing waste going into landfill. Conor who will run the programme will collect sewing machines from church's in the greater Belfast area.
Although the organisation's finances remain positive the new building along with the renovation to make it suitable for people with disabilities added to the finances needed to establish and develop the new project in Uganda mean that the funding group within TFS will be extremely busy in the next 6 months. All in all the last year was very successful. The following year will look to several big events the celebration of 30 years of TFS, the move into a new building and the start of a new project.
John Wood
2013
Tools for Solidarity (TFS) is a small organisation, which supports self-reliance by providing high quality recycled hand tools and sewing machines to working people overseas, promoting international solidarity, and challenging global inequalities through critical analysis of development issues, environmental sustainability and ethical working practices.
Next year will mark the 30th anniversary of TFS. From 1984, we have collected tools and sewing machines all over Ireland and sent them to Sub-Saharan Africa and Central America answering the requests of people in need of tools to change their lives.
In 2007, the organisation took a big step and established a centre in Tanzania, with the aim to provide tailors with the support they wanted. After four and a half years the Mwanza Sewing and Training Centre (MSTC) has become a very successful project that continues to develop and improve the services it gives to Tanzanian tailors. Along with MSTC, we have been looking for new projects and next year we hope to implement a tools centre.
None of our achievements would have been possible without the international and local volunteers who continue to carry out the majority of the work within our workshop. Providing voluntary opportunities for people with fewer opportunities is one of our main aims in Northern Ireland and was one of the factors for TFS to open a full time workshop. We have volunteers with extra support needs working with us in Belfast, Downpatrick and in the Mourne Grange Camphill Community in Kilkeel. The ethos and spirit of volunteering is fundamental to us. Without volunteers there would be no organisation. Volunteers are an inspiration, each of them giving their time and personal input to TFS.
TFS is a small organisation that has had a significant impact in changing the approach to thinking and implementing development support. Next year, as mentioned, will mark the 30th anniversary of our organisation. This is a big opportunity to celebrate our achievements with all the people who helped make TFS what it is and to look for new projects with renewed enthusiasm.
Francesca Rosada
2012
As already mentioned, the organisation has only been able to support such developments overseas with the help of international volunteers who continue to carry out the majority of the work within our workshop. Over the last year TFS has had its highest ever number of international volunteers working for the organisation. The number of requests from people to come and work for the organisation has also increased. This has enabled TFS to look to the development of new projects and to look to streamline the storage and flow of materials into and out of the workshop.
Finances of the organisation have been relatively stable for the previous year. However, funding is getting more difficult and more time is needed for this. There still remains a weakness in TFS of too few core staff able to carry out most of the administration, including funding.
TFS is a small organisation that has had a significant impact in changing the approach to thinking and implementing development support. The organisation does not have the human resources to develop this much further. If it wants to continue to develop better working practices it will need to network more with other organisations and consider joint programmes.
John Wood
We are happy to receive any organisation or individual that is interested in working with us.