Chairperson's Address 2016
The organisation continued to ratify its base within its new premises. We spent a year sorting out all the tools that had come over. It has been an ongoing work that we will carry on for at least another year to sort out the backlog tools that we brought over from the other workshop.
The workshop looks amazing. All the work has been done. For instance, we set up our Supported Volunteer Programme. So in many ways, it is great to be in our new workshop.
Unfortunately, there has been a real setback with our partner in Uganda. We left it in April when we went over for a visit. It began to work very well. When we went back in September it seemed to be achieving the results. But the partner had not adhered to the Partnership Agreement and after some accounting oroblems were found. On the top of that, we had very little communication with our partner who had been creating real problems. Although members of thecommittee in Uganda tried to help to resolve these issues with the partner, finally we needed to take serious action against our partner.
On the plus side, we developed a partnership with BWW, a Dutch organisation in order to work together on projects overseas. This year they sent 360 sewing machines to the Mwanza Sewing and Training Centre in Tanzania. It meant a genuine help for us because we could concentrate on trying to get the Ugandan Project working as well as going through our stock of tools and sewing machine in the workshop.
The success of our ESD Programme has been continued this year with a further funding from an individual. This significant fund enabled us to secure the programme for the following year.
The number of volunteers is still at a very high level. During the year we had a Strategic Development Plan in order to help the Organisation Plan for the next 3 years. This is required because of the high reliance on international volunteers which needs to become more structured in terms of dealing with the problems that may come in the future.
All in all it has been a very successful year. The organisations finances have remained strong even though we have a mortgage for the new building. Hopefully by the end of the next year we should have been able to pay off our loan.
Congratulations to everybody who has been involved.
Boglarka Benke
Chairperson's Address 2015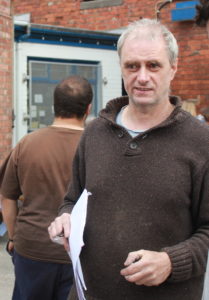 The orgnaisation achieved a milestione this year, it is now 30 years since we set foot on the streets of Belfast knocked on the first dorr and started collecting tools. From such a small beginning and with no thought of where this might lead the orrganisation has developed into one that has many volunteers and supports centres in East Africa.
The year itself was the busiest in the histrory of TFS. We sent 2 containers in one year, a first for the organisation, held a celebration of the organisations 30th birthday and moved into a new and TFS's own workshop.
Over the last 15 years TFS has had the dream/plan to try and secure it's own building. For many years we have built up a financial reserve for this but prices were unaffordable for most of this period. In recent times this changed and TFS was able to buy a building that would become it's new home. Based on the other side of town and with literally tons of tools and thousands of sewing machines to move TFS had an enormous job in boxing and moving everything it has. The work did not stop there with alterations and work to the building itself. It was a manmoth task and one that has given the orgnaisation, in the long term, more security and a more accessible workshop.
We continued with our partnership with MSTC (Mwannza Sewing and Training Centre) which is working very well. At the same time we developed a new project in Uganda with WORI (Women's Rights Iniative) and sent a container in October 2014. To run the project Simon from Uganda came to get training in Belfast and he had a 3 month intensive training programme. TFS personeel then wnet out to undertake additional training in-country from Feraury to end of April.
As mentioned above it was 30 years since tools began and we could not let this go by without a big celebration. It was the firsst in our new workshop and we had many volunteers from previous years who came to visit as well as many letters of congratualtions from those who could not make it.
The orgnaisation as usual had a new influx of volunteers and this year and we were very fortunate able to hold onto 2 volunteers both of whom took up critial roles within the organisation. Our educational programme has been re-invigourated by Laura, from Galithia, who has organised visits to schools providing a programme around 'Education For Sustainable Development' (ESD). Francesca has stayed to help TFS on the new project in Ugnada and has been out for 3 months helping to establish the project.
The organisation has also been strenghtened by the arrival of Conor who has taken on the job of 'Wates Management', a project to reduce waaste from tools/sewing machines within the Belfast area and supported by Belfast City Council. He has also been instrumental in getting funding to fix up the new building and get facilities, a lift and toilet, so that the new workshop can be accessible by people with disabilities.
The organisations finances have remained stable even though we have a mortgage for the new building we have saved money from not having to pay an even higher rent for the old workshop.
The organisation has achieved many of it's aims that were set out from previous strategic meetings: development of centres in partner countries; the purcahse of a workshop/centre for the TFS; the operating of an ESD programme. More work needs to be done on building and strenghtening the capacity of TFS and this is needed for the future.
It is important to finish on a point of celebration and congratulations to all involved in TFS in achieving a proud and influential 30 years of work.
John Wood
Chairperson's Address 2014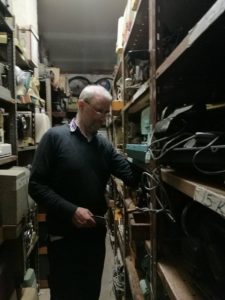 In the previous year the organisation has made 2 important decisions. Firstly we agreed to develop a project in Uganda with an organisation called WORI (Women's Rights Initiative). This new project is a major undertaking and has only been possible due to the great support from people from within N. Ireland, all over Europe and beyond. The second major event to occur over the year was the decision to purchase a building that would be owned by TFS. This has long been an ambition of the members of TFS to have a building with ground floor access and one in which we could develop to better suit work for supported volunteers and ultimately reduce our costs.
The task to move TFS from its present location to one on the other side of the city will require a big effort from everyone within TFS. The process to box and pack all our materials has taken several months. This coupled with the work needed to re-shelve and organise the new workshop means that the organisation will be stretched for at least 2 years.
Support for the tailoring project in Tanzania goes on, which is now in its 7 year of operation. The project has recovered well after the disastrous fire, from 2 years ago, which destroyed the building and stock of machines. Training levels are up and the projects finances are positive.
The old and new volunteers who have come through EVS, Eirenne and other avenues have come in at a time of big change within TFS and they have rallied round to help the organisation with this transition.
Another big and positive move has been the re-establishment of TFS Development Education Programme. Renamed ESD (Education for Sustainable Development) a former EVS volunteer, Laura, has been instrumental in developing a programme which is working in several primary schools. The feedback from teachers and pupils has been extremely positive.
Another former volunteer, Francesca, has agreed to help TFS develop the new project with WORI in Uganda. This is a big commitment which means that Francesca will be with TFS for the next 3 years and will be project co-ordinator for the project.
Other significant changes over the year were the addition of a volunteer from Belfast, Conor, who joined the core volunteers within the organisation and has contributed to the fund raising of the organisation. This has enabled the organisation to receive funding from Belfast city Council for a waste management programme aimed at reducing waste going into landfill. Conor who will run the programme will collect sewing machines from church's in the greater Belfast area.
Although the organisation's finances remain positive the new building along with the renovation to make it suitable for people with disabilities added to the finances needed to establish and develop the new project in Uganda mean that the funding group within TFS will be extremely busy in the next 6 months. All in all the last year was very successful. The following year will look to several big events the celebration of 30 years of TFS, the move into a new building and the start of a new project.
John Wood
Chairperson's Address 2013
Tools for Solidarity (TFS) is a small organisation, which supports self-reliance by providing high quality recycled hand tools and sewing machines to working people overseas, promoting international solidarity, and challenging global inequalities through critical analysis of development issues, environmental sustainability and ethical working practices.
Next year will mark the 30th anniversary of TFS. From 1984, we have collected tools and sewing machines all over Ireland and sent them to Sub-Saharan Africa and Central America answering the requests of people in need of tools to change their lives.
In 2007, the organisation took a big step and established a centre in Tanzania, with the aim to provide tailors with the support they wanted. After four and a half years the Mwanza Sewing and Training Centre (MSTC) has become a very successful project that continues to develop and improve the services it gives to Tanzanian tailors. Along with MSTC, we have been looking for new projects and next year we hope to implement a tools centre.
None of our achievements would have been possible without the international and local volunteers who continue to carry out the majority of the work within our workshop. Providing voluntary opportunities for people with fewer opportunities is one of our main aims in Northern Ireland and was one of the factors for TFS to open a full time workshop. We have volunteers with extra support needs working with us in Belfast, Downpatrick and in the Mourne Grange Camphill Community in Kilkeel. The ethos and spirit of volunteering is fundamental to us. Without volunteers there would be no organisation. Volunteers are an inspiration, each of them giving their time and personal input to TFS.
TFS is a small organisation that has had a significant impact in changing the approach to thinking and implementing development support. Next year, as mentioned, will mark the 30th anniversary of our organisation. This is a big opportunity to celebrate our achievements with all the people who helped make TFS what it is and to look for new projects with renewed enthusiasm.
Francesca Rosada
Chairperson's Address 2012
As already mentioned, the organisation has only been able to support such developments overseas with the help of international volunteers who continue to carry out the majority of the work within our workshop. Over the last year TFS has had its highest ever number of international volunteers working for the organisation. The number of requests from people to come and work for the organisation has also increased. This has enabled TFS to look to the development of new projects and to look to streamline the storage and flow of materials into and out of the workshop.
Finances of the organisation have been relatively stable for the previous year. However, funding is getting more difficult and more time is needed for this. There still remains a weakness in TFS of too few core staff able to carry out most of the administration, including funding.
TFS is a small organisation that has had a significant impact in changing the approach to thinking and implementing development support. The organisation does not have the human resources to develop this much further. If it wants to continue to develop better working practices it will need to network more with other organisations and consider joint programmes.
John Wood